Description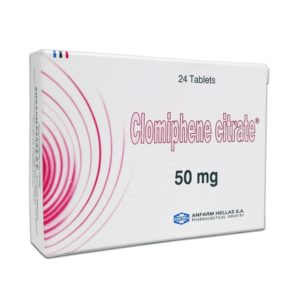 Clomid (Clomiphene Citrate) Anfarm Hellas (Greece)
Where can buy clomid for pct.
Clomid (Clomiphene citrate) is a drug which belongs to the class of antiestrogens. Initially it entered the market as a drug to treat infertility. However, over time, it found its application in sports, or to be more specific in PCT. Today, many steroid-using bodybuilders want to buy clomid online to prevent potential side effects. Our online store offers high quality antiestrogens and aromataze inhibitors. 24HoursPPC – this is where you can buy clomid for PCT at low price.
Why take antiestrogens?
Antiestrogens are must do for athletes taking androgenic-anabolic steroids. The thing is that the level of natural testosterone production is significantly reduced in those who take AAS. This phenomenon has very simple explanation: why should body produce a hormone if it already has it in abundancy? As a result, the activity of the HPTA decreases significantly, and the levels of estrogen in man's increases. This can lead to enlargement of the mammary glands and appearance of other female characteristics in men. So, the main effect of Clomid, which is a powerful selective estrogen receptor modulator, is to prevent these undesirable effects of taking anabolic steroids.
How to take Clomid
When you start taking Clomid, remember that it was developed for medical purposes, which means that the dosage indicated in instructions is completely inappropriate for PCT. Experienced athletes recommend buying Clomid in advance to start taking it in the last week of AAS cycle. The dosage of Clomiphene citrate depends on how heavy your steroid cycle was, but on average it ranges from 50 to 100 g daily (1-2 tablets). It is worth starting PCT with two tabs a day – one in the morning and one in the evening. One week later, reduce it to one tab a day (preferably in the morning) and continue with this dosage for another two weeks. If you calculate your dosage correctly, you will feel results immediately: the level of testosterone normalizes and the amount of estrogen decreases, female sexual characteristics will disappear (if they have already appeared); and muscle mass gained while taking ACC will be preserved
Clomid side effects. Clomiphene buy
You should remember that each drug has a number of side effects, but in most cases they appear only if the case of overdose and disappear after discontinuation. The same is the case with Clomid. The most common side effects are:
Nervous system – headaches, nervousness and sleep disturbances;
Gastrointestinal tract – nausea;
Immune system – rashes, acne;
Genitourinary system – pyospermia, frequent urination, pain in the lower abdomen.
To avoid these side effects, strictly stick to recommended doses and in no case combine it with alcohol.
Our online store offers wide range of high quality antiestrogens and aromatase inhibitors used in bodybuilding. Here you can buy Clomid without prescription. If you need advice or have questions, our customer support will be happy to assist you. Feel free to buy clomiphene online.