Descrição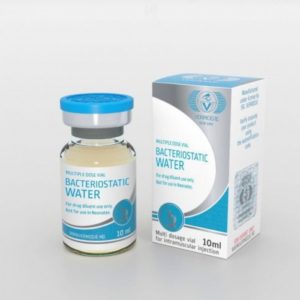 ÁGUA BACTERIOSTÁTICA (álcool benzílico) Vermodje
Bacteriostatic water
The main application of Bactericidal Water (BW) is a dilution of drugs in powder form into a liquid form to do an injection.
It is designed exclusively to be parenteral use as a diluent for drugs that must be dissolved prior to injection. And also for those drugs that require long-term storage in a dissolved form. Unlike distilled for injections, it allows you to store any drug dissolved in it during up to one month, without losing its working properties. BW for administration is a USP is sterile, pyrogen-free injection liquid. Benzyl alcohol in a concentration of 0.9% (9 mg/ml) serves as an active substance preservative, it keeps the product safe and protects from destruction. It comes in a reusable container. PH factor – 5.7 (4.5-7.0).
Advantages of using any germicidal liquid from other solvents
The composition has some concentration of benzyl alcohol, which allows you to purify water from any microorganisms.
Better absorption of the diluted drug by the body.
Longer storage of the diluted drug.
It is allowed to use ordinary water for injection with a single administration of the entire volume of the diluted drug, otherwise, with a repeated collection of a drug from a vial, various microorganisms enter it (from one syringe needle or from the bottle lid), which multiply rather quickly in a favorable environment for them, which leads to a rapid decrease in the effectiveness of this drug, as well as the ingress of these microorganisms into the human body during injections, which can cause abscesses around smaill area where the injection was made. All these negative phenomena can be avoided in case of the application of bacterial water.
Dosagem e uso
The main purpose is to dilute or dissolve any drugs to make an injection. Choose the amount of liquid as recommended by a manufacturer. According to the solvent concentration, dose, and route of administration. Examine drugs that you intend to administrate before injection if conditions permit it. Check if there any particulate matter present. Note if discoloration occurs.
Check the compatibility of the drug with the solvent as well as with other drugs when mixing them. Benzyl alcohol may also have incompatibilities with some substances. Do not neglect to consult your pharmacist. Perhaps you should master the aseptic technique. This technique is used for both single and multiple injections.
Our store recommends dilute peptides or growth hormones only with bactericidal water since in this case, the shelf life of diluted preparations increases and their effectiveness does not decrease during long-term storage.
Where to buy
Best place where you can buy bacteriostatic (bac or bacterial) water for injection or hgh is online shop 24HoursPPC. You also can buy bacteriostatic steril water at cvs also shipped to uk. Buying drugs in powder and bacteriostatic water separately is a good solution in order to save some money. 24hoursppc ORG is a good place where you can get bacteriostatic water as it has proper biostatic water for sale. Many people search for bacteriostatic water for injection for sale in uk and purchase bacteriostatic water for injection online is the best choise. Some people trying to find bacteriostatic bacterial water for hgh for sale at cvs. But we have no idea about CVS. Maybe you can buy sterile water at cvs but we know nothing of this.
You can find it also locally, but some people are afraid to do so because they think pharmacist will note that they are buying it for something illegal. This is total bullcrap and you've got nothing to fear. Make sure to make proper choice, do not overpay.